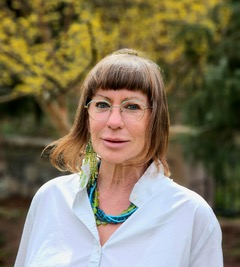 Janice by the numbers:
3 Very old dogs live with her
100 Songs committed to memory
300 food-bearing trees planted in Costa Rica
---
Janice received her master's degree from Pacific Oaks College, with a specialization in Latinix Families and Psychology. She spent the following year at Pacifica Graduate Institute, with Eight years attending the 3-day UCLA Attachment/Trauma conference with Marion Fried-Solomon, Dan Siegel, Bessel van der Kolk, Jaak Panksepp, Peter Levine, Francine Shapiro, Pat Ogden, Stephen Porges, Sir Richard Bolby, T Berry Brazeltine, Ruth Lanius, Joan Borysenko, Mary Main, and others. Afterwards, she was at the New Center for Psychoanalysis and then Ryokan College, pursuing further knowledge on theory and diagnosis.
Moreover, Janice has worked in addiction treatment for 29 years, helping those with substance used disorder to recover and find their ways to new lives.
Janice has joined the team at PDBTI of Southern Oregon and is currently dedicated to the practice and mastery of DBT.