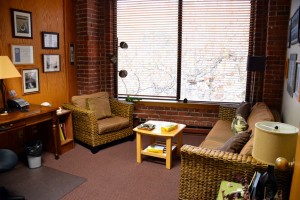 Full-Time Licensed Therapist Positions Available at
Portland DBT Institute
We are always looking for passionate, talented, behaviorally-focused licensed providers to join our team. We provide comprehensive training and supervision services, and a supportive, lively environment to work in!
---
ABOUT US
The Portland DBT Institute (PDBTI) is located in the heart of Portland, Oregon with satellite offices in Salem, Medford, and Ashland, Oregon. We are a free-standing, outpatient clinic that serves both public and private sectors. We are an interdisciplinary team that places a high value on ongoing professional development, quality service to clients of all backgrounds, and creating a supportive and equalitarian environment in which to work. We offer comprehensive outpatient DBT as well as Intensive Outpatient Treatment for Eating Disorders, Adults, and Teens/Families. In addition to a wide range of clinical services, PDBTI provides training, consultation, and supervision in DBT regionally and throughout the United States. A robust in-house training program is available to all PDBTI staff to further enhance mastery of DBT and CBT. Additionally, clinical staff have the opportunity to receive supervision and consultation from international DBT experts, including Linda Dimeff, PhD (Institute Director) and Andrew White, PhD (Associate Director). We are rapidly expanding, with many opportunities for career growth within the company.
OUR SERVICES
PDBTI provides a full array of DBT services for adults, young adults, and teens. Specialty programs include: DBT for Eating Disorders, DBT for Substance Abusers, DBT for PTSD, and BPD. We also offer medication management services and provide a number of services designed to treat environments (e.g., Family & Friends Orientation Workshop, DBT-influenced couples and family therapy). We are a state-licensed clinic and comply with all state requirements related to quality assurance and consumer protection.
BENEFITS

PDBTI provides competitive compensation, full medical, dental, and 401K benefits (with employer matching). Additionally, PDBTI pays 100% of employees health care premiums. Staff have access to free CE trainings for licensure needs as well as expert consultation and links to national experts and positions are available for both in-person and remote positions. There are multiple pathways for growth- from supervision to delivering trainings to doing consultation on DBT to other agencies!
EQUAL OPPORTUNITY
All qualified applicants will be afforded equal employment opportunities without discrimination because of race, creed (religion), color, sex, national origin, sexual orientation, military status, age, disability, predisposing genetic characteristic, marital status or domestic violence victim status, and shall also follow the requirements of the Human Rights Law with regard to non-discrimination on the basis of prior criminal conviction and prior arrest.
GET STARTED
Send a cover letter and current resume/CV to the clinic associate director (or just reach out to ask questions!)- Andrew White, PhD, ABPP- awhite@pdbti.org
---
Post Doctoral Fellowships at
Portland DBT Institute
Portland DBT Institute (PDBTI) is currently seeking postdoctoral fellows to join our team! Located in Portland and Salem, Oregon, PDBTI is a vibrant clinic community providing comprehensive DBT clinical services, as well as training, supervision, and consultation throughout the United States and internationally. Directed by DBT expert and Linehan protégé Linda Dimeff, PhD, PDBTI is the oldest and among the largest freestanding outpatient DBT clinics in the world, serving over 1000 clients annually. We offer comprehensive standard outpatient DBT to teens, their families, and adults.
Programs include: DBT for Eating Disorders, DBT Medication Management, DBT for Substance Abusers, DBT for Adolescents, and DBT/Prolonged Exposure for Stage 1 individuals with PTSD and BPD. PDBTI offers four intensive outpatient programs for teens and their families, adults, and adults with severe eating disorders. PDBTI is a founding member of the DBT Clinics Consortium and is one of the few DBT programs certified by the Linehan Board of Certification.
WHY JOIN OUR TEAM? We care about each other, the community we serve, and providing exceptional full-fidelity DBT and clinical care. We have a strong training program that includes a mentoring program, supervision pods that includes review of audio/video recordings, and a wealth of DBT and CBT webinars and two-day trainings provided by PDBTI. Fellows can also engage in rigorous study of other evidence-based therapies through a collaboration with the DBT Clinics Consortium. Trainees may select one or more specialty tracks to augme.nt their clinical training: NIH-funded suicide research and grant writing, clinic-based research and program evaluation, and/or clinic administration. Trainees will work closely with Andrew White, PhD, ABPP, Associate Director, and Linda Dimeff, PhD, Institute Director to fulfill their training goals.
Additional Information: This is a three-year appointment with the hope that applicants will wish to stay on at Portland DBT Institute following this initial engagement. All positions start in Fall, 2022. In addition to your selected track(s), Year 1 will focus on licensure as well as learning DBT to fidelity, as well as other EBPs; Year 2 will focus on DBT-LBC Certification.
Salary: Starting salary is $68,500; once licensed, this increases to $75,000. Although this is a salaried position, fellows in good standing can opt for a fee-for-service arrangement in their second and third year.
Application Submission: Please send the following information to Andrew White, PhD, ABPP, Associate Director via email (awhite@pdbti.org) or using the APPIC Common Application:
Letter of intent detailing your career goals, areas of expertise, experience, and training in DBT.
CV
Two to three letters of recommendation
Undergraduate and graduate school transcripts (unofficial transcripts are acceptable)
Clinical work sample (assessment report, DBT case formulation, publication, etc.)