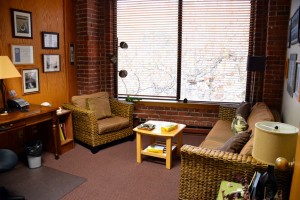 Full-Time Licensed Therapist Positions Available at
Portland DBT Institute
We are always looking for passionate, talented, behaviorally-focused licensed providers to join our team. We provide comprehensive training and supervision services, and a supportive, lively environment to work in!
---
ABOUT US
The Portland DBT Institute (PDBTI) is located in the heart of Portland, Oregon with a satellite office in Salem, Oregon. We are a free-standing, outpatient clinic that serves both public and private sectors. We are an interdisciplinary team that places a high value on ongoing professional development, quality service to clients of all backgrounds, and creating a supportive and equalitarian environment in which to work. We offer comprehensive outpatient DBT as well as DBT Intensive Outpatient Treatment for Eating Disorders. In addition to a wide range of clinical services, PDBTI provides training, consultation, and supervision in DBT regionally and throughout the United States. A robust in-house training program is available to all PDBTI staff to further enhance mastery of DBT and CBT. Additionally, clinical staff have the opportunity to receive supervision and consultation from international DBT experts, including Linda Dimeff, PhD (Institute Director) and Andrew White, PhD (Associate Director). We are rapidly expanding, with many opportunities for career growth within the company.
OUR SERVICES
PDBTI provides a full array of DBT services for adults, young adults, and teens. Specialty programs include: DBT for Eating Disorders, DBT for Substance Abusers, DBT for PTSD, and BPD. We also offer medication management services and provide a number of services designed to treat environments (e.g., Family & Friends Orientation Workshop, DBT-influenced couples and family therapy). We are a state-licensed clinic and comply with all state requirements related to quality assurance and consumer protection.
EQUAL OPPORTUNITY
All qualified applicants will be afforded equal employment opportunities without discrimination because of race, creed (religion), color, sex, national origin, sexual orientation, military status, age, disability, predisposing genetic characteristic, marital status or domestic violence victim status, and shall also follow the requirements of the Human Rights Law with regard to non-discrimination on the basis of prior criminal conviction and prior arrest.
EMPLOYMENT
We are currently seeking full-time therapists for our programs in Portland and Salem! Therapists on our team provide clinical services in both outpatient and intensive outpatient contexts. PDBTI clinicians are supervised by DBT therapists with advanced training, have access to a wide breadth of DBT resources, and participate fully in the consultation team, as well as the clinic as a whole. Plus, we're a fun place to work and the position has full benefits. We are seeking individuals who are licensed or license-eligible in the state of Oregon. Previous clinical DBT experience is valued but not required for new employment.
BENEFITS
Robust Medical and Dental Plans
Simple IRA with 3% Company Match
Life Insurance
Paid Sick Leave
Flexible Scheduling
Free Monthly In-house NBCC Continuing Education Training
Clinical Supervision and DBT Consultation
Access to All Levels of DBT Training
HOW TO APPLY
Applications will be accepted until all positions are filled. Interested candidates should submit questions and requested materials to: Dr. Andrew White at awhite@pdbti.org or via fax (503) 231-8153. Interested applicants should include the following information:
Letter of intent that describes your career interests and goals.
Two letters of recommendation.
Undergraduate and graduate transcripts (unofficial versions are acceptable).
One clinical work sample, such as an assessment report, or other work sample that highlights your work, relevant to the emphasis area.
---
Post-Doctoral positions at Portland DBT Institute for 2020
Located in the heart of Portland, Oregon, the Portland DBT Institute (PDBTI) is a vibrant clinic community providing comprehensive DBT clinical services, as well as training, supervision, and consultation throughout the United States and internationally. Directed by DBT expert Linda Dimeff, PhD, PDBTI is the oldest and among the largest freestanding outpatient DBT clinics in the world, serving close to one thousand clients annually. PDBTI is a founding member of the DBT Practice Clinics Consortium and is a DBT-LBC Certified Clinic that includes six DBT-LBC certified clinicians. Senior managers also attend Linehan's annual DBT Strategic Planning Meeting (DBT-SPM).
PDBTI offers a wide array of DBT services for adults, young adults, and teens. Programs include: DBT for Eating Disorders, DBT Medication Management, DBT for Substance Abusers, DBT for Adolescents, and DBT/Prolonged Exposure (PE) for Stage 1 individuals with PTSD and BPD, along other trauma recovery services. Other services include: a skills-only program for individuals starting services, a DBT Family & Friends Orientation Workshop, and an Intensive Outpatient Program for individuals with co-occurring personality disorders and eating disorders.
We are actively recruiting psychologist residents to join our team. The ideal resident is passionate about learning/doing DBT and CBT, is committed to the delivery of evidence-based practices, and loves being part of a tight-knit clinic. Residents automatically transfer to a clinical staff position after completing the year-long residency program and obtaining licensure in Oregon. All new hires, including post-docs, are expected to remain at PDBTI for three years post-licensure. An important part of our history and future, psychologist residents have typically advanced to management and training positions.
Supervision is provided by licensed psychologists with advanced training in DBT who have been directly supervised by Dr. Dimeff; supervision also includes audio review of therapy sessions. In-house trainings are provided by Dr. Dimeff, Dr. White, and other DBT/CBT/suicide experts on a routine basis. To ensure rich clinical experience, post-doctoral fellows are assigned patients across programs and with a range of severe and complex behavioral problems. Post-doctoral fellows also participate in a range of external training opportunities provided by PDBTI and other DBT and CBT experts. This is a full time, four-days per week clinical position with full medical/dental and retirement benefits.
Compensation is based on a split-fee for billed services model. The average annual wages earned by post-doctoral fellows in the initial year ranges from $45K to $75K.
Application materials include:
1. Cover letter outlining DBT training and clinical experience, career interests, areas of cultural competence, and goals for the next three years.
2. Curriculum vitae
3. Two letters of recommendation
4. A clinical work sample, such as an assessment report, DBT case formulation, publication, etc.
5. Undergraduate and graduate school transcripts (unofficial transcripts are acceptable).
Materials and questions can be submitted via email to Dr. Andrew White at awhite@pdbti.org or faxed to Dr. White at: (503) 231-8153. Applications are due by December 14, 2020, and we typically hold interviews the second week of February.