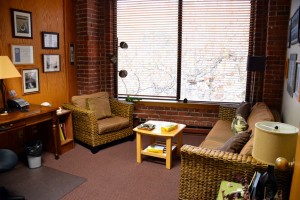 Full-Time Licensed Therapist Positions Available at
Portland DBT Institute
We are always looking for passionate, talented, behaviorally-focused licensed providers to join our team. We provide comprehensive training and supervision services, and a supportive, lively environment to work in!
---
ABOUT US
The Portland DBT Institute (PDBTI) is located in the heart of Portland, Oregon with a satellite office in Salem, Oregon. We are a free-standing, outpatient clinic that serves both public and private sectors. We are an interdisciplinary team that places a high value on ongoing professional development, quality service to clients of all backgrounds, and creating a supportive and equalitarian environment in which to work. We offer comprehensive outpatient DBT as well as DBT Intensive Outpatient Treatment for Eating Disorders. In addition to a wide range of clinical services, PDBTI provides training, consultation, and supervision in DBT regionally and throughout the United States. A robust in-house training program is available to all PDBTI staff to further enhance mastery of DBT and CBT. Additionally, clinical staff have the opportunity to receive supervision and consultation from international DBT experts, including Linda Dimeff, PhD (Institute Director) and Andrew White, PhD (Associate Director). We are rapidly expanding, with many opportunities for career growth within the company.
OUR SERVICES
PDBTI provides a full array of DBT services for adults, young adults, and teens. Specialty programs include: DBT for Eating Disorders, DBT for Substance Abusers, DBT for PTSD, and BPD. We also offer medication management services and provide a number of services designed to treat environments (e.g., Family & Friends Orientation Workshop, DBT-influenced couples and family therapy). We are a state-licensed clinic and comply with all state requirements related to quality assurance and consumer protection.
EQUAL OPPORTUNITY
All qualified applicants will be afforded equal employment opportunities without discrimination because of race, creed (religion), color, sex, national origin, sexual orientation, military status, age, disability, predisposing genetic characteristic, marital status or domestic violence victim status, and shall also follow the requirements of the Human Rights Law with regard to non-discrimination on the basis of prior criminal conviction and prior arrest.
EMPLOYMENT
We are currently seeking:
---
Position: Postdoctoral Fellowship
Rolling Application Deadline!
Portland DBT Institute (PDBTI) seeks six postdoctoral fellows to join our team in 2022. Located in Portland and Salem, Oregon, PDBTI is a vibrant clinic community providing comprehensive DBT clinical services, as well as training, supervision, and consultation throughout the United States and internationally. Directed by DBT expert and Linehan protégé Linda Dimeff, PhD, PDBTI is the oldest and among the largest freestanding outpatient DBT clinics in the world, serving over 1000 clients annually. We offer comprehensive standard outpatient DBT to teens, their families, and adults.
Programs include: DBT for Eating Disorders, DBT Medication Management, DBT for Substance Abusers, DBT for Adolescents, and DBT/Prolonged Exposure for Stage 1 individuals with PTSD and BPD. PDBTI offers four intensive outpatient programs for teens and their families, adults, and adults with severe eating disorders. PDBTI is a founding member of the DBT Clinics Consortium and is one of the few DBT programs certified by the Linehan Board of Certification.
WHY JOIN OUR TEAM? We care about each other, the community we serve, and providing exceptional full-fidelity DBT and clinical care. We have a strong training program that includes a mentoring program, supervision pods that includes review of audio/video recordings, and a wealth of DBT and CBT webinars and two-day trainings provided by PDBTI. Fellows can also engage in rigorous study of other evidence-based therapies through a collaboration with the DBT Clinics Consortium. Trainees may select one or more specialty tracks to augment their clinical training: NIH-funded suicide research and grant writing, clinic-based research and program evaluation, and/or clinic administration. Trainees will work closely with Andrew White, PhD, ABPP, Associate Director, and Linda Dimeff, PhD, Institute Director to fulfill their training goals and in pursuit of their selected postdoctoral track.
POSTDOCTORAL FELLOWSHIP TRACK: Each trainee may select a track(s) designed specifically to support trainees' career goals. These tracks serve to assist fellows in moving towards research and grant writing, program evaluation and applied research, and running evidence based mental health programs. The salary provided in Years 1 and 2 will support one day of focused track-work. Fellows will provide 18 hours of direct mental health service per week to PDBTI patients and will receive comprehensive supervision to assist with Oregon Licensure requirements and to assist with improving core competencies related to DBT.
NIH-Funded Suicide Research & Grant Writing. Join Dr. Dimeff in a partnership with the Evidence-Based Practice Institute (dba Jaspr Health). Fellows will learn the nuts and bolts of grant writing and research of behavioral health digital technologies for suicide prevention. Current grants include:
1. iKinnect2.0 for Juvenile-Justice (JJ) Involved Youth at Risk for Suicide (MPI: Dimeff & Schaeffer, NIMH). We seek to design, build, and evaluate a paired mobile app system that helps parents deliver (and JJ-involved youth receive) evidence-based interventions to reduce suicidal behavior and recidivism.
2. Adapting and Evaluating Jaspr Health for Suicidal Adults in Primary Care (MPI: Dimeff & Jobes, NIAAA). Jaspr Health is an efficacious digital platform for use by acutely suicidal adults seeking psychiatric crisis services in the emergency department. The intent here is to adapt it for use in primary care, to aid in the treatment of suicide drivers, and to reduce problematic alcohol use that exponentially increases risk of death by suicide.
Clinic-Based Research and Program Evaluation. With over 600 DBT patients engaged in services at any one time across outpatient and intensive outpatient services and with routine gathering of outcomes data, Portland DBT Institute is a treasure trove of data for those interested in conducting clinic-based research and program evaluation. Learn from Andrew White, PhD, ABPP, an expert statistician who has conducted program evaluations for a variety of large and small clinics and hospitals throughout the U.S. (including PDBTI). Work with Drs. White and Dimeff in preparing PDBTI papers for publishing and presentation at professional conferences. Participate in the Behavioral Health Research Collective, the institutional review board PDBTI is a member of.
Clinic Administration. To support its many clinical, research, and training/consultation offerings, PDBTI has developed a sophisticated infrastructure and processes to ensure its success – from its policies and procedures and hiring practices to managing payers to negotiating higher rates of reimbursement with insurance companies, implementing best practices for outcomes assessments, and personnel management.
Additional Information: This is a three-year appointment with the hope that applicants will wish to stay on at Portland DBT Institute following this initial engagement. All positions start in Fall, 2022. In addition to your selected track(s), Year 1 will focus on licensure as well as learning DBT to fidelity, as well as other EBPs; Year 2 will focus on DBT-LBC Certification.
Salary: Starting salary is $60,000; once licensed, this increases to $65,000. Although this is a salaried position, fellows in good standing can opt for a fee-for-service arrangement in their second and third year.
Application Submission: Please send the following information to Andrew White, PhD, ABPP, Associate Director via email (awhite@pdbti.org) or using the APPIC Common Application:
Letter of intent detailing your career goals, areas of expertise, experience, and training in DBT. Please indicate the track(s) you are interested in.
CV
Two to three letters of recommendation
Undergraduate and graduate school transcripts (unofficial transcripts are acceptable)
Clinical work sample (assessment report, DBT case formulation, publication, etc.)
---
Position: Full-Time Therapist – Salem and Portland
We are currently seeking full-time therapists for our programs in Portland and Salem! Therapists on our team provide clinical services in both outpatient and intensive outpatient contexts. PDBTI clinicians are supervised by DBT therapists with advanced training, have access to a wide breadth of DBT resources, and participate fully in the consultation team, as well as the clinic as a whole. Plus, we're a fun place to work and the position has full benefits. We are seeking individuals who are licensed or license-eligible in the state of Oregon. Previous clinical DBT experience is valued but not required for new employment.
BENEFITS
Robust Medical and Dental Plans
Simple IRA with 3% Company Match
Life Insurance
Paid Sick Leave
Flexible Scheduling
Free Monthly In-house NBCC Continuing Education Training
Clinical Supervision and DBT Consultation
Access to All Levels of DBT Training
HOW TO APPLY
Applications will be accepted until all positions are filled. Interested candidates should submit questions and requested materials to: Dr. Andrew White at awhite@pdbti.org or via fax (503) 231-8153. Interested applicants should include the following information:
Letter of intent that describes your career interests and goals.
Two letters of recommendation.
Undergraduate and graduate transcripts (unofficial versions are acceptable).
One clinical work sample, such as an assessment report, or other work sample that highlights your work, relevant to the emphasis area.
---