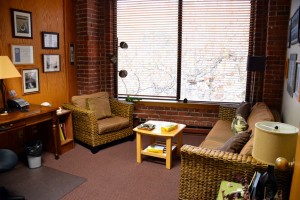 Full-Time Licensed Therapist Positions Available at
Portland DBT Institute
We are always looking for passionate, talented, behaviorally-focused licensed providers to join our team. We provide comprehensive training and supervision services, and a supportive, lively environment to work in!
---
ABOUT US
The Portland DBT Institute (PDBTI) is located in the heart of Portland, Oregon with a satellite office in Salem, Oregon. We are a free-standing, outpatient clinic that serves both public and private sectors. We are an interdisciplinary team that places a high value on ongoing professional development, quality service to clients of all backgrounds, and creating a supportive and equalitarian environment in which to work. We offer comprehensive outpatient DBT as well as DBT Intensive Outpatient Treatment for Eating Disorders. In addition to a wide range of clinical services, PDBTI provides training, consultation, and supervision in DBT regionally and throughout the United States. A robust in-house training program is available to all PDBTI staff to further enhance mastery of DBT and CBT. Additionally, clinical staff have the opportunity to receive supervision and consultation from international DBT experts, including Linda Dimeff, PhD (Institute Director) and Andrew White, PhD (Associate Director). We are rapidly expanding, with many opportunities for career growth within the company.
OUR SERVICES
PDBTI provides a full array of DBT services for adults, young adults, and teens. Specialty programs include: DBT for Eating Disorders, DBT for Substance Abusers, DBT for PTSD, and BPD. We also offer medication management services and provide a number of services designed to treat environments (e.g., Family & Friends Orientation Workshop, DBT-influenced couples and family therapy). We are a state-licensed clinic and comply with all state requirements related to quality assurance and consumer protection.
EQUAL OPPORTUNITY
All qualified applicants will be afforded equal employment opportunities without discrimination because of race, creed (religion), color, sex, national origin, sexual orientation, military status, age, disability, predisposing genetic characteristic, marital status or domestic violence victim status, and shall also follow the requirements of the Human Rights Law with regard to non-discrimination on the basis of prior criminal conviction and prior arrest.
EMPLOYMENT
We are currently seeking:
---
Position: Outpatient & IOP Clinic Operations and Research Associate
Deadline to apply: October 15th, 2021
We are currently seeking a highly motivated, academically outstanding, graduate school-bound post-baccalaureate because of the wide range of opportunities afforded by this job. Tasks performed by the
Outpatient and IOP Clinic Operations and Research Associate
 will include a wide range of clinic activities across three domains: 
Operations
, 
Research
, and 
Clinical
. This position reports directly to PDBTI's Associate Director,
Andrew White, PhD
. 
Operations activities include: tracking clinician caseloads; overseeing administration of patient outcomes assessments; providing onboarding training and supervision for all new clinician employees; recruiting, screening, and providing operational oversight of an IOP service line managing other group co-leaders. 
Research activities include: aiding in writing and submitting human subjects applications; implementing clinic policies and procedures for conducting research; cleaning and analyzing data in preparation for presenting and publishing papers. The associate will have opportunities to serve as a co-author on presentations of data and publications. 
Clinical activities include: co-leading DBT skills training groups in IOP program, developing/overseeing a DBT skills training fidelity process applying best practices, participate in a weekly DBT skills training seminar for leaders and co-leaders led by Dr. Dimeff. The RA will learn DBT skills and know how to teach them with complex, multi-diagnostic patients by serving as a co-leader as well as operations administration.
Other responsibilities include:
Conducting literature searches and extracting key content.
Establishing and maintaining strong relationships with clinician and patient research participants.
Oversee conduct of clinic wide efforts to gather outcome measures, track compliance, and facilitate data completion by clinicians and patients.
Aid clinic leaders in developing research infrastructure.
Aid in data cleaning, data analyses, and writing up research findings.
Developing study materials and protocols.
Creating and maintaining databases.
Conducting initial patient intake meetings and gathering insurance authorization.
Candidates will be required to live in the Portland, OR or Salem, OR area and commute to our offices post-Covid. Starting salary is $40,000. Position is full-time with benefits.
HOW TO APPLY
Please send letter of interest, unofficial transcript, and resume to Eva Johnson at ejohnson@pdbti.org. Applications will be accepted through October 15, 2021. Start date is negotiable.
---
Position: Full-Time Therapist – Salem and Portland
We are currently seeking full-time therapists for our programs in Portland and Salem! Therapists on our team provide clinical services in both outpatient and intensive outpatient contexts. PDBTI clinicians are supervised by DBT therapists with advanced training, have access to a wide breadth of DBT resources, and participate fully in the consultation team, as well as the clinic as a whole. Plus, we're a fun place to work and the position has full benefits. We are seeking individuals who are licensed or license-eligible in the state of Oregon. Previous clinical DBT experience is valued but not required for new employment.
BENEFITS
Robust Medical and Dental Plans
Simple IRA with 3% Company Match
Life Insurance
Paid Sick Leave
Flexible Scheduling
Free Monthly In-house NBCC Continuing Education Training
Clinical Supervision and DBT Consultation
Access to All Levels of DBT Training
HOW TO APPLY
Applications will be accepted until all positions are filled. Interested candidates should submit questions and requested materials to: Dr. Andrew White at awhite@pdbti.org or via fax (503) 231-8153. Interested applicants should include the following information:
Letter of intent that describes your career interests and goals.
Two letters of recommendation.
Undergraduate and graduate transcripts (unofficial versions are acceptable).
One clinical work sample, such as an assessment report, or other work sample that highlights your work, relevant to the emphasis area.
---