November 2nd and 3rd
8:30am – 5:00pm
Sign in begins at 8am

PRESENTED BY
Charlotte Thomas
LOCATION
McMenamins Kennedy School
5736 Ne 33rd Ave,
Portland, OR 97211
503-249-3983
---
July 27th and 28th
SOLD OUT

8:30am – 5:00pm
Sign in begins at 8am
PRESENTED BY
Andrew White, PhD
LOCATION
McMenamins Kennedy School
5736 Ne 33rd Ave,
Portland, OR 97211
503-249-3983

Groups of 5 or More
If  you are interested in this training on a date not offered, we can schedule most trainings at our site or yours, to meet your group's needs.
---
COURSE DESCRIPTION
Dialectical Behavior Therapy (DBT) is a highly efficacious treatment developed by Marsha M. Linehan, PhD for multi-diagnostic, severely disordered individuals with pervasive emotion dysregulation. While originally developed for difficult-to-treat patients with borderline personality disorder, research has demonstrated that DBT is also effective for patients with a variety of complex problems, including eating disorders and substance abuse, where emotion dyscontrol are often at the core of the patient's problems and/or interfere with long-term maintenance of therapeutic progress. DBT has been adapted for use in a variety of settings, including prisons, inpatient hospitals, schools, and juvenile justice facilities.
Topics covered will include:
Theoretical basis for DBT and biosocial theory
Big, emerging research trends and implications for DBT and DBT programs, including cost-effectiveness data
Structural strategies in DBT, including Stages & Targets of treatment
Strategies for adapting DBT to unique settings using DBT functions and modes
Effective use of the behavioral chain analysis to zero in on what's controlling problem behaviors
Validation strategies: When and how to use them
Dialectics: What it is and how it's used in DBT
Overview of DBT skill modules
CONTINUING EDUCATION AND LEARNING OBJECTIVES
Upon completion of this two-day workshop, participants will be able to:
Describe the biosocial theory and its components
Describe the patients for whom DBT is effective and identify the most important components of DBT given recent scientific findings.
List and describe the rationale for targets of treatment in Stage I DBT.
Identify the components of a behavioral chain analysis.
Describe six levels of validation and function of validation strategies
Describe the primary dialectic in DBT and how dialectics are applied in DBT.
Name the DBT Skills modules and their primary function.
WHO SHOULD ATTEND?
This course is designed for mental health and other professionals (clergy, teachers, nurses, PCPs) who are called upon to help people improve their lives through skillful actions.
REQUIREMENTS AND PREREQUISITES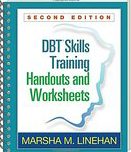 There are no prerequisites for this course. For maximal impact, we encourage learners to bring copies of Linehan's (2014) skills training manuals to the workshop – DBT Skills Training Handouts and Worksheets, Second Edition 2nd Edition
CONTINUING EDUCATION CREDITS
Participants who complete both training days will earn 12 continuing education credits.
Portland DBT Institute is an NBCC-Approved Continuing Education Provider (ACEP) and may offer NBCC-approved clock hours for events that meet NCBB requirements. The ACEP solely is responsible for all aspects of the program
PRICING
Individual Registration Fee
$300.00
Group Registration Fee for 5 or more
$275.00
Student Registration Fee
$225.00
Early Registration Discount:
For those registering 30 or more days in advance a $25 per person discount will be given.
CANCELLATION AND REFUND POLICY
Cancellations and Refunds – A $100.00 handling fee will be deducted upon cancellation. Refund requests by fax or email must be received two weeks before the start date. In addition, the fees are non-transferrable.
Course Cancelation – PDBTI reserves the right to cancel any program due to under-enrollment, or any course due to work stoppages, instructor illness or inclement weather. If a course is cancelled, PDBTI is responsible for refunding only the course fee.
ACCOMMODATIONS
The River's Edge offers the guests of Portland DBT Institute a 10% discount off of the best rate of the day for both the Hillside and Riverside King guestrooms.
When booking reservations, please ask for HEALTH rate plan. This rate is subject to availability at time of booking. Should the Premier Rate Plan not be available, the best available house rate will prevail.
As well as being a short riverside walk from the offices of Portland DBT Institute, travelers staying at the River's Edge will enjoy the following amenities and services.
Well-appointed guest room accommodation in either the Hillside King (343 sq. ft.) or Riverside King Guestrooms (390 sq.) Hillside guestrooms have windows which open,Riverside, a walk out patio facing the river. Both light and airy.
Guestrooms with complimentary wireless internet service, a well – lit work area, 50" flat screen television, in-room coffee, safe and large marble surfaced bathroom vanities.
24 hour access to the fitness center, Jacuzzi, sauna and steam room.
Complimentary use of the business center.
The in-house spa which offers a wide range of treatments. Please visit our website for a complete list of treatments and pricing.
The Aquariva restaurant adjacent to the hotel services, breakfast, lunch, happy hour, dinner and brunch.
Information on Trimet bus, lightrail, and street car transportation can be found at