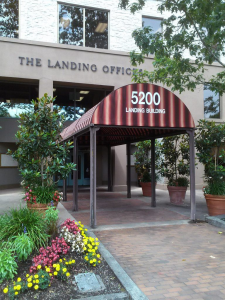 Our street address is 5200 S. Macadam Ave, Portland, Oregon, 97239. We are located in the Landing Offices building and have therapy offices on several floors, with our main office on the 5th floor in Suite 580.  When you arrive for your appointment, please check in at Suite 580, and your therapist will meet you there at the scheduled time and show you to their office.
We are located in the John's Landing neighborhood of Southwest Portland, conveniently located near several major highways and bus routes. Free parking is available in the visitor spots as well as the parking space specifically marked for Portland DBT Institute within the building's parking lot. Free street parking can also be found within walking distance of the Landing Offices on side streets surrounding Macadam Ave.
 If you need directions while driving to the institute, please call our main phone line (503-231-7854), and press "0" to speak to staff at the front desk.