Dates will be announced soon!
Presented via Zoom Video Communications
PRESENTED BY
DBT-Linehan Board of Certification Certified Clinician™


---
COURSE DESCRIPTION
Suicide remains the 10th leading cause of death for all individuals in the United States and is the second leading cause of death for individuals between the ages of 35 and 54 (CDC, 2018). Evidence based practice around suicide prevention and treatment can be difficult to understand and implement, causing tension between ethical standards of avoiding harm and practicing within areas of competency with day-to-day clinical obligations. This training seeks to find balance between resolving ethical tensions and increasing competencies regarding the treatment of suicidal patients. Participants will review up-to-date information on best practices for suicidal patients, practice interventions, and use working with suicidal clients as a lens from which discuss ethical codes related to practice. 
LEARNING OBJECTIVES
Upon completion of this one-day workshop, participants will be able to:
I know general long term risk and protective factors for suicide
I know specific populations at risk for suicide
I know the imminent risk factors for suicide
I know times hospitalization is warranted for suicidal ideation
I have access to a validated risk management protocol
I understand how the ethics of my profession relate to the treatment of suicidal individuals
I have a way to obtain consultation immediately when presented with suicidal crisis
I have practiced what I would say when presented with a suicidal patient with a peer
I know resources in the area to draw upon when working with suicidal patients
I have a plan way to access updates on research and practice in the area of the treatment of suicidal patients
I have written a risk benefit note that has been reviewed by someone with expertise in this area
PREREQUISITES
There are no prerequisites for this course.
WHO SHOULD ATTEND?
This course is designed for mental health professionals with or without familiarity with DBT.
DELIVERY METHOD
We will apply highly engaging instructional strategies, along with audience participation, to bring the teaching to life.
CONTINUING EDUCATION HOURS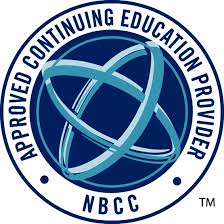 Participants who complete the full training will earn 6 CE hours.
Portland DBT Institute has been approved by NBCC as an Approved Continuing Education Provider, ACEP No. 6326.
Programs that do not qualify for NBCC credit are clearly identified. Portland DBT Institute is solely is responsible for all aspects of the programs.
PRICING
Individual Registration Fee
$249.00
Group Registration Fee for 3 or more
$225.00
Student Registration Fee
$215.00
---
Private Training Requests
Portland DBT Institute training is available to schedule as a private training for your group. PDBTI's training team travels locally, nationally, and internationally, to provide evidence based, adherent DBT training. Please fill out our Training Request Form and a training coordinator will contact you to see how we can work together to exceed your organization's training goals.
---
CANCELLATIONS AND REFUNDS
A $60.00 handling fee will be deducted upon cancellation. Refund requests by fax or email must be received two weeks before the start date. In addition, the fees are non-transferrable.
PDBTI reserves the right to cancel any program due to under-enrollment, or any course due to work stoppages, instructor illness or inclement weather. If a course is cancelled, PDBTI is responsible for refunding only the course fee.