Learn and Earn Over Lunch Series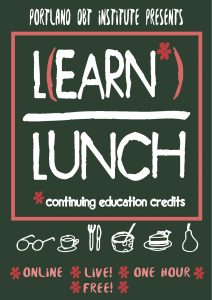 Thanks for being part of our community!
The Learn and Earn over Lunch series is an opportunity to earn free NBCC approved continuing education credits from outstanding trainers, while you eat lunch! Join us online (via Zoom) from noon to 1:00pm Pacific Time every month on the second Wednesday.
In addition, feel free to take a look at our other training offerings as well as employment opportunities at PDBTI!
Evidence-Based and Family-Focused Practices in the Treatment of Adolescent Substance Abuse







Cindy Schaeffer, PhD
POSTPONED
Check back soon for an updated date!


This 1-hour workshop will present an overview of evidence-based practices for addressing adolescent substance abuse in outpatient clinical settings. In particular, the workshop will focus on family-based interventions that empower parents and other caregivers to take an active role in their young person's care and address the parenting practices and family dynamics that often contribute to adolescent substance use. Participants will be given tools for delivering component clinical techniques targeting adolescents, parents, and the family system as a whole and ideas for how to sequence and integrate treatment components. Examples of techniques to be discussed include youth motivational enhancement, parenting skill development, and family communication exercises. Throughout, the workshop will emphasize how to engage and provide culturally-responsive care to a diverse array of families including marginalized and minoritized youth and families facing multiple stressors.
Learning Objectives  
By the conclusion of this event, participants will be able to:
To understand why family involvement in adolescent treatment for substance abuse is critical for treatment success and learn techniques for effective family engagement in care.
To gain skills for an ecological and multiple-systems conceptualization of adolescent substance abuse.
To obtain an overview of the core individual, parent, family, and peer-oriented clinical interventions common to evidence-based treatments for adolescent substance abuse.
To gain exposure to culturally-responsive family engagement practices relating to care for adolescent substance abuse.
Instructor | Dr. Cindy Schaeffer is a child-clinical psychologist and Associate Professor of Psychiatry within the University of Maryland Baltimore Division of Child and Adolescent Psychiatry. Her research and clinical activities focus on developing and evaluating family-based interventions for adolescents engaging in serious conduct problems and substance abuse. Her work draws from ecological conceptualizations of youth development and seeks to address risk factors and proximal causes of conduct problems across individual, family, peer, and school contexts. Dr. Schaeffer's research has been funded by the National Institutes of Mental Health, the National Institute on Drug Abuse, the National Institute of Justice, the Annie E. Casey Foundation, and several state-level behavioral health systems. She is the author of over 40 academic articles, many scholarly book chapters, and one clinical volume published by the American Psychological Association. She is also a co-developer of iKinnect, a linked parent-teen app system and digital mental health intervention designed to address adolescent conduct problems.
One-Day Training
Dr. Schaeffer will be offering an exclusive training on this topic for 6 CEU on December 15, 2023! For more information, click on the button below.
Let's Listen to Our Youth: Strategies to Engage Black Youth in Mental Health Care





Aijah K. B. Goodwin, PhD
October 11th, 2023 at Noon PT
Registration will close October 9th, 2023

Black youth in the United States experience various structural, institutional, familial, and individual stressors that may increase their risk of mental health concerns (Sohail et al., 2014). The consequences of unmet mental health needs for Black youth may include academic difficulties, social concerns, increasing rates of suicide, and other detrimental long-term outcomes (Planey et al., 2019). However, there are significant individual-level, provider-level, and system-level barriers to mental health help-seeking for Black adolescents (Planey et al., 2019). Furthermore, adolescents, especially those with anxiety, depression, and other internalizing concerns, are less likely to seek professional help and are more likely to prefer self-reliance and personal coping (Cauce et al., 2002; Planey et al. 2019). As a result, there is an increase in teenagers utilizing inaccurate or noncredible social media and other digital sources for mental health psychoeducation and support (Miller, 2022). Youth are often not centered in our understanding and use of existing engagement techniques; therefore, the strategies do not utilize the help-seeking preferences of Black youth. Clinicians will reflect on their mental health engagement techniques and learn to understand, center, and utilize the generational, cultural, and systemic preferences of Black youth.
Learning Objectives  
By the conclusion of this event, participants will be able to:
Describe the state of mental health and mental health care for Black youth.
Understand how to navigate barriers and enhance facilitators to mental health engagement for Black youth. 
Utilize strategies for engagement into mental health care that centers the needs and preferences of Black youth.
Instructor | Dr. Aijah K. B. Goodwin is a 2nd-year postdoctoral fellow and incoming Assistant Professor at the National Center for School Mental Health (NCSMH) within the Division of Child and Adolescent Psychiatry at the University of Maryland School of Medicine. Dr. Goodwin is interested in culturally responsive practices that (1) improve the mental health help-seeking to service utilization pathway for Black adolescents experiencing internalizing symptoms and (2) contribute to mental health and well-being in schools. She has also disseminated research and clinical practice focused on implementing evidence-based practices in school and community settings to improve mental and behavioral health outcomes. While her focus is on applied research to decrease mental health inequities, Dr. Goodwin also provides clinical care to youth in West Baltimore. She has received numerous awards, honors, and fellowships, enjoys mentoring rising and current students from minoritized backgrounds, and is passionate about equity in mental health care. She is a Philadelphia native, who enjoys music, social gatherings, and sports.
Evidence Based Practices for Adolescents with ADHD and co-occurring High Risk Behaviors




Lauren M. Haack, PhD
November 8th, 2023 at Noon PT
Registration will close November 6th, 2023
Attention-deficit/hyperactivity disorder (ADHD) is one of the most common and costly behavioral health conditions worldwide, with most impacted youth experiencing some degree of difficulty into adolescence and adulthood. Adolescents with ADHD demonstrate deficits in core cognitive domains of executive functioning, motivation, and social-emotional processing, which may present in impeded self-regulation, task avoidance, and emotion dysregulation. In turn, adolescents with ADHD are at an increased risk for functional impairment across a variety of areas, such as school problems, peer and family conflict, anxiety, depression, and risky behaviors (including self-harm and suicide attempts). In order for providers to most effectively support adolescents with ADHD, knowledge about evidence-based practice (EBP) goals and strategies to address core ADHD deficits and related impairments is warranted. This 1-hour workshop will include an overview of select EBP strategies for adolescents with ADHD (including psychoeducation on adult-teen interaction styles, Organizational Skills Training, Cognitive Behavioral Therapy, mindfulness, and self-care strategies), as well as resources for each strategy presented. Next, the Antecedent-Behavior-Consequence (ABC) model, as well as behavior support plans aligned with the ABC model, will be introduced. Finally, we will discuss how to integrate key concepts from the workshop into existing treatment plans for optimal engagement and outcomes when working with adolescents impacted by ADHD and comorbid disorders. Throughout the workshop, methods for incorporating digital health advancements and culturally-attuned approaches will be emphasized.
Learning Objectives  
By the conclusion of this event, participants will be able to:
Connect the core ADHD deficits and related impairments with evidence-based practice goals and strategies
Utilize the ABC model to understand and manage impairment uniquely experienced by each adolescent with ADHD
Apply the 3 steps for setting up a behavioral treatment plan to improve ADHD impairment aligned with the ABC model
Integrate key concepts about core ADHD deficits and related impairments connected to evidence-based practice goals and strategies into existing treatment plans
Instructor | Lauren M. Haack, PhD, is an associate professor and licensed clinical psychologist focused on 1) cultural influences to global mental health conceptualization, assessment, and treatment, 2) accessible and culturally-attuned evidence-based services for youth and families, and 3) behavioral health provider experience, training, and consultation. Dr. Haack is involved in several current clinical research efforts, including projects funded by the National Institute of Mental Health and the National Institute of Health-Fogarty International Center focused on digital solutions to improving family access to and engagement in school-based ADHD treatment worldwide. Dr. Haack's current and previous work is featured on her website: Strivelab.ucsf.edu. When not conducting clinical research, Dr. Haack provides instruction and consultation/supervision on various UCSF Department of Psychiatry and Behavioral Science teams, including the Clinical Psychology Training Program, the Child and Adolescent Psychiatry Fellowship Program, the Juvenile Justice Behavioral Health team, and the Child and Adolescent Psychiatry Portal. She is the co-chair of the research taskforce on her department's diversity committee. Dr. Haack's work adapting, implementing, and evaluating school-home ADHD behavioral services for youth of Spanish-speaking families has been recognized with an International Society for Research on Child and Adolescent Psychology Scholarship, a Hellman Family Fellowship, and a World ADHD Congress Young Scientist Award.
One-Day Training
Dr. Haack will be offering an exclusive training on this topic for 6 CEU on December 15, 2023! For more information, click on the button below.
DBT for Chronic Pain



Deborah Barrett, PhD, LCSW
December 13th, 2023 at Noon PT
Registration will close December 11th, 2023
Chronic physical pain presents a specific form of suffering. This one-hour program introduces why and how DBT can be relevant to the treatment of chronic pain. DB will describe theory and evidence for this approach and how to apply specific concepts and skills in practice. Central to this will be applying the dialectic, (in)validation, and acceptance- and change-based approaches to chronic pain. Participants will gain tools to translate practices for emotional dysregulation to work with individuals with sensory dysregulation, regardless of its root cause.
Learning Objectives  
By the conclusion of this event, participants will be able to:
Explain the pain gate control theory and at least 1 way it applies to working with individuals with chronic physical pain.
Understand the significance of validation for individuals with emotional and physical dysregulation.
Adapt at least 2 DBT skills to therapeutic work with individuals with chronic physical pain.
Instructor | Deborah (Debbie) Barrett, PhD, LCSW is a Clinical Associate Professor in the School of Social Work and the Department of Medicine in Psychiatry at the University of North Carolina at Chapel Hill. Debbie is passionate about improving life for individuals with chronic pain, and provides workshops whenever asked. She has been facilitating dialectical pain management groups at UNC Psychiatry outpatient practice since 2016, where she also works with individuals with chronic pain and comorbid struggles. Prior to that, she spent a decade co-facilitating low-fee DBT groups in private practice. She is also the director of continuing education at UNC School of Social Work, which is committed to offering programs that are accessible, grounded in evidence, and centered on social justice.
FREE CONTINUING EDUCATION CREDIT, NBCC APPROVED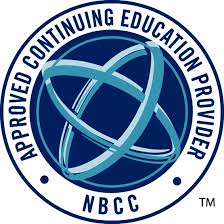 Participants who attend an event in this series will earn one free continuing education credit, NBCC approved.
Portland DBT Institute has been approved by NBCC as an Approved Continuing Education Provider, ACEP No. 6326. Programs that do not qualify for NBCC credit are clearly identified. Portland DBT Institute is solely is responsible for all aspects of the programs.