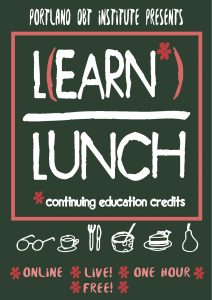 The Learn and Earn over Lunch series is an opportunity to earn free continuing education credits while you eat lunch. Join us from noon to 1:00pm Pacific Time.
free
online via Zoom
one-hour
Registration Closed
Synthesizing Interpersonal and Emotional Models and Interventions for Borderline Personality Disorder

Skye Fitzpatrick, PhD

September 14th, 2022 at Noon PT

Theory suggest that borderline personality disorder (BPD) is predominantly characterized emotion dysregulation and consequently frontline interventions focus on teaching individuals with BPD strategies to regulate emotions. These theories and their clinical implications have offered demonstrable benefits to those with BPD, but emerging research suggests that they BPD may not be pervasively characterized by emotion dysregulation. Indeed, research suggests that emotion dysregulation may occur in the context of interpersonal stressors in BPD. This talk provides an overview of the Borderline Interpersonal Affective Systems (BIAS) model­­­, which is a novel theory of BPD that joins emotional and interpersonal theories of the disorder to describe how BPD is maintained through a transaction between disrupted interpersonal and emotional processes. The empirical support for the BIAS model will be reviewed. Next, a novel treatment that Dr. Fitzpatrick and her colleagues have been developing based on the BIAS model to target both emotional and interpersonal mechanisms of BPD will be described. Finally, future directions for emerging work on emotional-interpersonal processes in BPD will be discussed.

Learning Objectives | By the conclusion of this event, participants will be able to:
Understand the core tenets of the Borderline Interpersonal Affective Systems (BIAS) model­­­
Understand the current state of empirical support for the BIAS model­­­
Understand clinical implications of conceptualizing BPD through a BIAS model framework
Understand framework and empirical support of novel intervention based on BIAS model
Instructor | Dr. Skye Fitzpatrick completed her PhD in 2018 at Toronto Metropolitan (formerly Ryerson) University under Dr. Janice Kuo's supervision where her research focused on the nature and treatment of borderline personality disorder (BPD), with a specific focus on dialectical behavior therapy (DBT). She then completed her predoctoral internship at the University of Washington under the research mentorship of Dr. Debra Kaysen, focusing on the treatment of posttraumatic stress disorder (PTSD). Dr. Fitzpatrick continued to pursue training in both BPD and PTSD treatment research during her Canadian Institutes of Health Research-funded postdoctoral fellowship in the Center of Alcohol Studies at Rutgers University under the mentorship of Dr. Denise Hien and Dr. Shireen Rizvi. Her current research focuses on identifying ways to optimize, expedite, and broaden access to BPD and PTSD treatments on their own and as they co-occur. In the interest of optimizing and expediting BPD and PTSD treatments, Dr. Fitzpatrick has become particularly focused on harnessing the power of relationships through the development and study of conjoint or dyadic interventions. In the interest of broadening access to BPD and PTSD interventions, she also develops and tests online, remote-delivered, and brief interventions. Her work has been broadly recognized for its high impact and scientific rigor through prestigious awards such as the Governor General's Academic Gold Medal Award, the American Psychological Association Dissertation Research Award, 57 peer-reviewed publications on these and related topics, and over 8 million Canadian dollars in grant funding as a co- or principal investigator.
 Building a Life Worth Living with Structure and Work

Natalie Dunn, BA

October 12th, 2022 at Noon PT

Dialectical Behavior Therapy (DBT) is considered the leading evidence-based treatment for borderline personality disorder (BPD). Yet, evidence suggests that approximately 50% of patients who undergo stage I DBT remain on psychiatric disability after two years, despite the majority having achieved diagnostic remission (McMain et al., 2012). This finding indicates that BPD recovery is more complex than no longer meeting diagnostic criteria. Zanarini et al. (2012) define recovery as the combination of symptomatic remission, at least one emotionally sustaining relationship, the ability to work or attend school consistently, and a global assessment of functioning score of 61 or greater. However, for many stage one patients, lack of structure inhibits progress towards recovery-related pursuits such as work, school, and relationships. To address this issue, Portland DBT Institute developed and implemented a supplement to Standard DBT that assists clients as they identify and participate in structured, recovery-oriented activities across three research-supported domains: social relationships, vocational efforts, and mental health and wellness. One of the primary objectives of this module is to promote a dialectical balance between treatment-related efforts and other forms of structure that improve mental health (via alignment with patients' values and life-worth-living goals) while increasing opportunities for skills generalization. This presentation, led by the module's co-developer, will examine the role of structure in treating stage I patients, identify the key components of BPD recovery, and provide an overview of the Building Structure curriculum.  
 
Learning Objectives | By the conclusion of this event, participants will be able to:
Understand the role of structure in treating stage I patients. ­­
Identify the three "pillars" of BPD recovery and their relationship to structure.­­
Describe the inside out, outside in approach to treating patients with borderline personality disorder. 
Introduce Portland DBT Institute's intensive outpatient Building Structure module.
Instructor | Natalie Dunn is a clinical psychology PhD student at University of Oregon and an affiliate of Portland DBT Institute, where she completed her post-baccalaureate research, clinical work, and served on the organization's management. In 2021, Natalie co-developed and piloted Building Structure with DBT expert Linda Dimeff, PhD. Her professional interests include self-injurious thoughts and behaviors, borderline personality disorder, parental mental health, evaluating and disseminating evidence-based treatments, and digital interventions.
 Dialectical Behavior Therapy for Psychosis

Maggie Mullen, LCSW, DBT-LBC
 
November 9th, 2022 at Noon PT

Dialectical Behavioral Therapy (DBT) is utilized to help those that struggle with intense experiences of emotion dysregulation. Yet, when one thinks of psychosis, an experience that can greatly disrupt one's ability to engage in emotional regulation, DBT is not commonly thought of as a therapeutic intervention. By examining the existing research and best practices, we will explore DBT and DBT-informed concepts and principles that benefit clients with Psychotic Spectrum Disorders

Learning Objectives | By the conclusion of this event, participants will be able to:
Learn about the prevalence of emotion dysregulation and trauma amongst people with Psychotic Spectrum Disorders.
Understand the Spectrum of Psychosis as it applies to people who benefit from DBT.­­
Offer DBT and DBT-informed skills and interventions to people with Psychotic Spectrum Disorders.
Employ person-centered, non-pathologizing language to describe Psychotic experiences. 
Instructor
| 
Maggie Mullen, LCSW, DBT-LBC (they/them) is a clinical social worker, national trainer, community activist, and author of
The Dialectical Behavior Therapy Skills Workbook for Psychosis
. Maggie specializes in culturally responsive, evidence-based care for psychotic spectrum disorders, trauma and PTSD, the LBGTQ+ community, and formerly incarcerated people. As a Training Director at Kaiser Permanente, they take great pride in mentoring, training, and supervising the next generation of social workers. Maggie is also a proud member of the
ISITDBT Anti-Racism Committee
.
When the chaos settles in DBT:  Moving to treat quality of life interfering mental health problems.

Christopher Conley, DSW, RSW
 
January 11th, 2023 at Noon PT
Dialectical behavior therapy is an idiographic principle-driven behavioral treatment designed to treat clients who are multidiagnostic, self-harming, and who often have suicide behavior.  Broadly, stage I DBT focuses on bringing a client towards having a life worth living by targeting life threatening behaviors, therapy interfering behaviors, and problems that impede the client from having a reasonable quality of life.  Many DBT providers are unclear when and how to move from addressing primary targets in DBT to addressing quality of life interfering mental health disorders such as social anxiety disorder, panic disorder, generalized anxiety disorder, and depressive disorders.  This brief workshop will help clinicians understand (from a behavioral and transdiagnostic perspective) common acute mental health disorders and when to shift treatment attention and strategies in DBT to address such problems.
Learning Objectives | By the conclusion of this event, participants will be able to:
Be able to conceptualize common psychiatric diagnoses from a behavioral perspective
Describe assessment procedures for acute mental health disorders
Establish robust DBT case conceptualizations
Instructor | Dr. Christopher Conley is a registered social worker in the Hamilton-Niagara area in Ontario, Canada.  He provides assessment and treatment to youth and adults at Hamilton Health Sciences in the West Niagara Mental Health program using cognitive and behavioral interventions.  Dr. Conley regularly provides training in DBT, Prolonged Exposure (PE) for PTSD, and other CBT approaches for common mental health problems.  Additionally, he is an Assistant Clinical Professor (PT) in the Department of Psychiatry and Behavioral Neurosciences at McMaster University in Hamilton, Ontario.
 Antiracism in Clinical Practice
Faria Kamal, PhD
 February 8th, 2023 at Noon PT

 Evidence-based research has shown that discrimination and racism negatively impact individual's mental health and well-being. In recent years, there has been an explicit attempt within clinical spaces to understand, acknowledge and intervene more effectively with BIPOC (Black, Indigenous, and People of Color) populations. As such, many mental health providers and teams are grappling with how to develop and implement antiracist clinical practices. This presentation focuses on helping clinicians accurately and behaviorally identify problem behaviors, taking steps to concretely build culture of antiracism on teams, and providing a framework for understanding therapeutic interventions.

Learning Objectives | By the conclusion of this event, participants will be able to:
Define Antiracism behaviorally within clinical practice.
Building anti-racist agreements for therapist and teams.­­
Identifying helpful and unhelpful responses by therapists when issues regarding racism occur in individual and group sessions.
Instructor
|
Dr. Faria Kamal is a licensed clinical psychologist in New York City and Assistant Professor at Columbia University Medical Center (CUMC).  She provides evidence-based therapy to children, adolescents, adults, and families. Her research has focused on providing effective mental health services to marginalized communities, along with the assessment and implementation of Diversity, Equity, and Inclusion (DEI) practices within clinical spaces. In addition, she provides consultation to teams internationally on DEI and anti-racist practices in therapy.