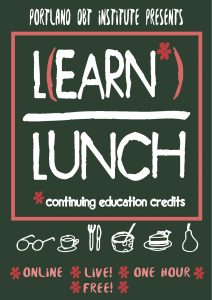 The Learn and Earn over Lunch series is an opportunity to earn free continuing education credits while you eat lunch. Join us from noon to 1:00pm Pacific Time.
free
online via Zoom
one-hour
 Avoiding Board Complaints (and you may very well get a board complaint)

Andrew White, PhD, ABPP 
 
April 12th, 2023 at Noon PT
Licensing boards serve important roles in the larger healthcare landscape by protecting the public, standardizing training requirements, and disseminating accurate information regarding the field. At the same time, mental health clinicians (and other healthcare clinicians) may notice high amounts of worry thoughts, intense fear, and persistent anxiety when thinking about or interacting with licensing boards. This fear is often driven by concerns around loss of license and like most fear, can lead to reduced problem solving strategies, rigid thought process, and inadvertent increases in risky behaviors due to lack of discussions regarding ethical concerns. This training uses a conceptual framework proposed by Linehan (1993,2014) as well as other emotion regulation theorists (e.g. Gross, 2014, Ellis, 1977) to find a synthesis between avoiding complaints and tolerating the reality that a complaint may occur. We will work together to find ways to improve our emotion regulation around these topics and find behaviorally specific next steps together!
Learning Objectives | By the conclusion of this event, participants will be able to:
Understand common types of complaints filed against clinicians.
Understand best practices for how to avoid a complaint.
Know a few behavioral steps for what to do if I get a complaint.
Learn emotion regulation skills to use regarding board complaints.
Instructor | Dr. White received his doctorate in clinical psychology from the University of Rhode Island and was a fellow at Harvard Medical School before moving to Oregon, where he is a licensed psychologist. His clinical areas of expertise include suicide, clinical risk management, adolescent and family treatment, dialectical behavior therapy, cognitive behavioral therapy, behavioral therapy, and implementation of evidence-based practice. He has extensive research and evaluation experience on both coasts, with specific interests in community-based program evaluation, multilevel modeling, frequent use of psychiatric emergency services, and general evaluation of evidence-based practice. As an advocate of the scientist/practitioner model, he has a strongly held value and passion for the adherent delivery of effective evidence-based treatment and prevention of pseudoscience, especially for individuals who have experienced barriers to accessing mental health services.
In addition to clinical services, Dr. White trains internationally on suicide prevention and Dialectical Behavior Therapy (DBT) and specializes in the implementation of DBT with non-dominant and native populations. He is a Clinical Assistant Professor within the Department of Psychiatry, Clinical Psychology within the School of Medicine at Oregon Health & Science University, is board certified in DBT through the Linehan Board of Certification, holds ABPP Board Certification in Clinical and Behavioral Psychology, volunteers as a journal reviewer, and volunteers in multiple capacities for the Linehan Board of Certification.
 DBT with Autistic Adults


Lorie A. Ritschel, Ph.D.


 May 10th, 2023 at Noon PT

Autism Spectrum Disorder (ASD) is a lifelong neurodevelopmental disorder with the hallmark features of social impairment and restricted and repetitive behavioral patterns. In addition, psychiatric comorbidities are present at a significantly higher rate in autistic adults as compared to the general population, including mood and anxiety disorders, ADHD, and urges for self-harm or suicide (see Ritschel et al., 2021). Though a number of empirically supported treatments exist for these psychological conditions, few have been modified for autistic clients (Maddox & Gaus, 2018). In addition, most mental health professionals are not well-trained in ASD and either turn autistic clients away from the jump ("I don't treat autism") or fail to recognize autism and thus overlook a key component of the case conceptualization. This is especially problematic given that (1) ASD prevalence rates have increased dramatically over the last 20 years (Baio et al., 2018), and (2) many clinicians erroneously believe that autism is always associated with significant functional impairment, including obvious cognitive and behavioral impairments. Taken together, clinicians are likely treating clients on the spectrum whether they intend to or not, and a better understanding of ASD and neurodiversity more broadly is a critical fix for this problem. 

Learning Objectives | By the conclusion of this event, participants will be able to:
Understand the basics of ASD

Understand the similarities and differences in emotion dysregulation as it occurs in ASD vs. BPD

­­
Describe the learning styles of ASD and how to adapt skills training effectively
Instructor
|
Lorie Ritschel earned her doctorate in Clinical Psychology from the University of Kansas, and she completed postdoctoral fellowships at Duke University Medical Center and Emory University School of Medicine. Dr. Ritschel is an expert trainer and consultant of DBT and the DBT Prolonged Exposure protocol, and she is a board certified DBT therapist through the DBT-Linehan Board of Certification.