Now Accepting Referrals 
All services offered via telehealth for everyone's safety during the pandemic.
Direct Referral Method: Contact IOP Community Liaison Team

971-350-3350 | IOP@pdbti.org
About Our ED-IOP
Our unique IOP is an excellent fit for adults and young adults struggling with eating disordered behaviors who may need more support than traditional outpatient services can offer or are transitioning to the community from a higher level of care. Individuals partner with our IOP to:
avoid hospitalization and other higher levels of care
receive more treatment in fewer weeks or make rapid progress due to time constraints (e.g., returning to school or work) or travel limitations (e.g., living a far distance from where treatment is available) 
achieve greater structure and support than is available through standard outpatient care
find treatment effective for problems which are more complex, severe, and potentially life-threatening and require more frequent care
"start strong" before starting standard outpatient DBT
Our ED-IOP is built on a firm DBT foundation and is provided in a DBT-adherent setting by expert clinicians.  
---
Common Characteristics of People in our ED-IOP
Complex, severe, multi-diagnostic and/or have a history of trying other ED treatments which were not successful
Meet criteria for one or more of the following eating disorders: Anorexia, Bulimia, Binge Eating Disorder, Avoidant Restrictive Food Intake Disorder (ARFID), ED-Other Specific Feeding/Eating Disorders
18 years or older
Medically stable enough for outpatient care
Telehealth Delivered. In collaboration with nationally recognized eating disorder experts, we adapted our IOP for telehealth in a way that ensures fidelity to DBT and maintains evidence-based best practices.
Insurance Coverage: The ED-IOP is contracted with the following insurance providers: BCBS, MODA, Cigna, Pacific Source, CareOregon, Kaiser, InterCommunity Health Network CCO, Trillium CCO, Providence commercial plans (not Providence Medicare plans).
---
ED-IOP Schedule
The IOP is offered in 16-week cycles, Monday through Friday, from 8:00am to noon. Clients may adjust length of treatment as needed. The typical ED-IOP schedule includes: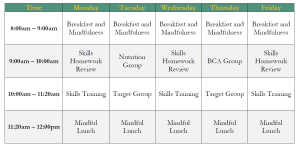 Additionally, medication management and after-hours phone consultation are offered as needed.
Medical Requirements. New patients must undergo a medical evaluation before starting IOP to ensure their medical safety.
---
ED IOP Step-Down Program
To ensure a smooth transition from the IOP, graduates are invited to join our step-down program designed to help solidify and maintain gains made during the IOP. The typical step down schedule includes:
DBT Skills Training Group

: Once weekly for two hours.

Goals Setting Group

: Once weekly for 90 minutes

Nutrition Therapy

: If needed

Medication Management

: If needed
---
Making a Referral. Please contact our
IOP Community Liaison Team (971-350-3350 | IOP@pdbti.org) or fill out the electronic interest form below.
For general information about the program, please contact
Raquel Friedman, PsyD, Path to Mindful Eating program manager at rfriedman@pdbti.org.