Next offering coming soon

PRESENTED BY
Amy Kalasunas, LPCC-S, NCC
DBT-Linehan Board of Certification Certified Clinician™

---
COURSE DESCRIPTION
Despite the prevalence and severity of eating disorder diagnoses, relatively few mental health professionals are formally trained to treat them. The sheer amount of medical, psychological, and nutritional knowledge required to treat eating disorders is overwhelming and can leave the most motivated professional concerned. Best practices dictate a provider having an active understanding of how to identify and treat a wide variety of acute and chronic medical and psychological symptoms. Therefore, training in the treatment of eating disorders must include relevant data from medical professionals, psychiatry, psychology, nutrition, and popular culture trends to stay on top of effective interventions.
This three-day workshop will focus on presenting evidenced based theory and practices to diagnose and treat eating disorder symptoms in clients. Assessment and treatment strategies from Cognitive Behavior Therapy and Dialectical Behavior Therapy will be taught so that a clinician can best assess the appropriate treatment modality, the ideal level of care, and appropriate level of clinician expertise needed to treat a client presenting for eating disorder treatment. This training incorporates up-to-date research outcomes with extensive clinical experience and provides hands-on practice for a clinician wanting to immediately expand their training and knowledge base in treating eating disorders.
WHO SHOULD ATTEND?
Clinicians who are interested in learning about the evidence-based treatments for eating disorders in general and DBT in particular are welcome to attend. Please note that this course is designed as an introductory workshop for clinicians learning to apply evidence-based interventions in the treatment of clients with eating disorders.
LEARNING OBJECTIVES
On completion, participants will be able to:
Identify evidence-based treatment models used to treat eating disorders, and name clinical markers for using Cognitive Behavior Therapy or Dialectical Behavior Therapy.
Understand the medical, psychological, and cognitive symptoms of eating disorders and how they dictate treatment interventions.
Name core components of CBT and DBT theory and principals to inform treatment planning for clients with eating disorders.
List key DBT strategies used to orient, commit, and engage a client during treatment of eating disorders.
Understand the function of DBT skills groups, individual therapy sessions, skill coaching, and consultation team when treating clients with eating disorders.
Practice setting an individual therapy agenda informed by CBT and DBT targets and strategies.
Understand the essential role of behavioral and solution analysis in treating a client with an eating disorder.
Identify specific examples of how behavioral skills can treat clients with eating disorders.
CONTINUING EDUCATION HOURS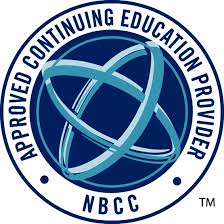 Participants who complete all three training days will earn 12 CE hours.
Portland DBT Institute has been approved by NBCC as an Approved Continuing Education Provider, ACEP No. 6326.
Programs that do not qualify for NBCC credit are clearly identified. Portland DBT Institute is solely is responsible for all aspects of the programs.
PRICING
Individual Registration Fee
$349.00
Group Registration Fee for 3 or more
$325.00
Student Registration Fee
$325.00
CANCELLATIONS AND REFUNDS
A $60.00 handling fee will be deducted upon cancellation. Refund requests by fax or email must be received two weeks before the start date. In addition, the fees are non-transferrable.
PDBTI reserves the right to cancel any program due to under-enrollment, or any course due to work stoppages, instructor illness or inclement weather. If a course is cancelled, PDBTI is responsible for refunding only the course fee.
Private Training Requests
Portland DBT Institute training is available to schedule as a private training for your group. PDBTI's training team travels locally, nationally, and internationally, to provide evidence based, adherent DBT training. Please fill out our Training Request Form and a training coordinator will contact you to see how we can work together to exceed your organization's training goals.
Private Training Request